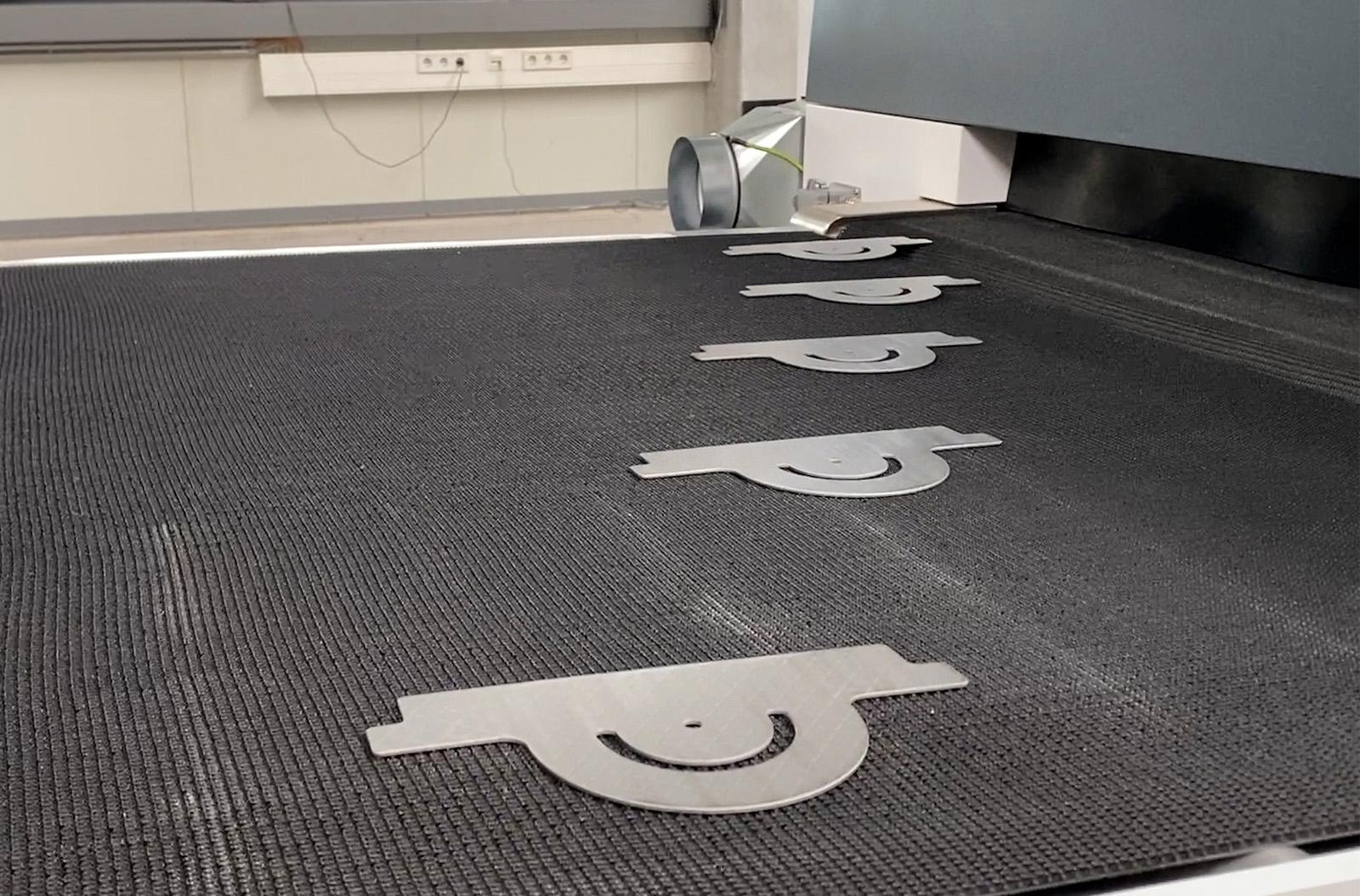 Appreciation For Sheet Metal Processing
October 11, 2023
---
Six years ago, an entrepreneur started a company in Bad Salzuflen, Germany. His business was industrial sheet metal and metal processing. By investing in new plant technology and setting up a second stainless steel production company four years later, he was pursuing clear goals: consistent material separation, high quality and satisfied customers.
Text: Annedore Bose-Munde
Blechwerk Bürger GmbH is a classic supplier. In addition to the laser-edged part, with or without edge rounding, the portfolio also includes the production of complete assemblies, from welded components with powder coating to final assembly. Focusing on individual customer care and cooperation at eye level, the company also operates beyond the borders of East Westphalia.
Markus Bürger founded the sheet metal plant in Bad Salzuflen in 2017. The Lico Metall Design GmbH & Co KG was then founded in 2021, the company moved to its new location in Werther in the autumn of 2022 and production started here in January 2023. There are quite pragmatic reasons for the two locations. On the one hand it is the focus on the material and on the other hand on the clientele. While Blechwerk Bürger specialises in the processing of carbon steel, Lico specialises in the processing of stainless steel and therefore in the purity of the processing. In addition, the two locations also address different customers and cover two sales channels. "Both locations are 25 kilometres away from each other, about a 30 minute drive. As a result, we are sometimes in touch with completely different customers. In addition, with Lico we want to make consistent use of the potential of the stainless steel market," says Markus Bürger, Managing Director of Lico.
Successive investments were made in various plant technologies with the establishment of the new sheet metal plant and later with the launch of Lico. The first double-sided Lissmac machine was purchased shortly after starting up in 2018: an SBM-M 900 S2. "This was a small, handy and financially manageable deburring machine. After this was busy in two shifts, we invested in another Lissmac plant in 2022. We wanted to optimize the process and make it more efficient," says Bürger, looking back. With the deburring machine SBM-L 1500 G1S2 not only a larger range of parts could be processed. The feed and discharge conveyor also significantly increased the effectiveness in processing. 
Ensuring high quality from the outset was important to Bürger. Especially with laser-cut parts, customers should not receive parts with burrs as a result of the process. The parts are thus prepared for any subsequent processes such as welding or coating.


Two-Sided Processing In One Operation Was The Door Opener
When purchasing the plant technology, Bürger has already taken a pragmatic approach at the start of the company. For example, the proximity to the Lissmac location in Beckum was important to him. There he identified suitable machines that met his requirements and key specifications. 
Dirk Schürstedt, Area Sales Manager Metal Processing at Lissmac Maschinenbau GmbH, demonstrated to him the possibilities of the grinding and deburring machine SBM-M S2. The system can be used for flexible edge rounding. High process efficiency and time savings are achieved by processing the inner and outer contours on both sides in one operation.
The plant was available at short notice and so they did not think twice. "I decide quickly when I have a good feeling," says Markus Bürger. "It's not just the chemistry that's right here. I was convinced by the proximity to Lissmac. And of course, the two-sided processing principle as well as the technical possibilities offered by the system and, ultimately, the short delivery time."
When purchasing the second system, which became necessary due to the increased order volume, the focus was then again on a Lissmac system. Compared to the first purchase, the SBM-M S2, is the deburring machine SBM-L 1500 is now significantly larger. In addition to the working width of 1500 millimeters, which can cover a wider range of parts and thus better serve customer requirements, Bürger also expects cost savings in abrasives in the future. In addition, several parts can be placed on simultaneously by the upstream and downstream conveyor belts. This means a significant simplification of work for the employees. An additional sanding belt also allows the burrs created during laser cutting to be reworked more efficiently.
With his two companies, Markus Bürger is a satisfied Lissmac customer. In terms of technology and in terms of service, which reacts very quickly when problems arise. Lissmac will also be on board for a new planned project. "From autumn 2023, the laser parts produced on a new Tru Laser 5030 with fibre technology will be transferred via an Astes sorting system directly to a Lissmac double belt grinder, where the grinding process will start automatically," says Bürger. He is confident about the order book, sees great potential in the technology and is looking forward to implementing the fully automated process.

Second customer base generated through consistent material separation
Separating materials has always been and still is a key issue in sheet metal working. Originally, both the steel division and the stainless steel division were located in Bad Salzuflen. But Bürger was not satisfied with the solution.
Different quantities are processed in the steel segment than in the stainless steel segment. The processing of the parts is different and, of course, the purity and processing quality of the stainless steel parts is also important. Especially when parts are used for food processing equipment or medical technology, this is an important point. In order to avoid complex material segregation in the processing of the various parts and in all logistical processes, Markus Bürger decided to set up Lico Metall Design. 
"In mixed production, the error rate is significantly higher. Of course, despite all the care taken, metal dust can be carried away or parts can become contaminated with oils or fats," says Bürger. That's why he decided to completely separate the two materials physically. This way, he could achieve 100% added value and increase customer acceptance. That was the right decision, because with Lico a new and separate second customer group will be opened up. The newly founded Lico now concentrates on the production of high-quality stainless steel components - also with a view to the assembly production located in the group of companies.
Markus Bürger had been planning to further expand the stainless steel sector for quite some time. And so he was looking for the right property, a suitable managing director and co-shareholder as well as the right technology. Although it took some time to find a suitable property and a suitable managing director for Lico before Bürger was satisfied with the solutions, the decision in favour of Lissmac technology was a quick one.
At the Lico site in Werther there is a SMD 123 RE dry grinding system. It is used for deburring and the uniform edge rounding of all workpiece edges on the outer and inner contours on all sides, as well as for an optimal surface finish of the stainless steel parts. In addition, there is an SBM-M 1500 for rounding edges at the location.

Achieving Greater Awareness For Suppliers
Especially in the field of sheet metal processing, a lot of money is invested in plant technology. Suppliers and contract manufacturers must also consistently perform quality work in order to be able to survive. But the way Markus Bürger is perceived in the marketplace is often a little hard to come by. That's why he wants more appreciation for his companies, but also for the industry.
"The sheet metal processing industry does a lot. The potential here is huge: new technologies, complex automation and numerous perspectives," says Bürger. And this is exactly what he sees as a perspective for his companies. "It is important to me to run a healthy company, to place it on the market and to keep it there, and also to work with good employees, suppliers and customers on an equal footing". 
Dirk Schürstedt from the plant manufacturer Lissmac also appreciates this honesty at eye level. "Markus Bürger tells me directly what he expects from a machine and what could be improved if necessary. This open communication definitely drives us and means a challenge that we need," he says. One thing is certain: Here the mutual appreciation is given - at eye level.